Precomandă cu 25 % reducere și transport gratuit.
When you're being hunted, who can you trust?

For the first time since she escaped from her school many months ago, Eve can sleep soundly. She's living in Califia, a haven for women, protected from the terrifying fate that awaits orphaned girls in The New America.

But her safety came at a price: She was forced to abandon Caleb, the boy she loves, wounded and alone at the city gates. When Eve gets word that Caleb is in trouble, she sets out into the wild again to rescue him, only to be captured and brought to the City of Sand, the capital of The New America.

Trapped inside the City walls, Eve uncovers a shocking secret about her past--and is forced to confront the harsh reality of her future. When she discovers Caleb is alive, Eve attempts to flee her prison so they can be together--but the consequences could be deadly. She must make a desperate choice to save the ones she loves . . . or risk losing Caleb forever.

In this breathless sequel to "Eve," Anna Carey returns to her tale of romance, adventure, and sacrifice in a world that is both wonderfully strange and chillingly familiar.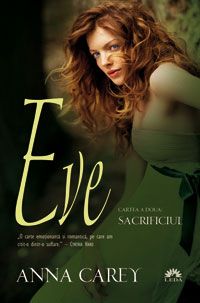 În Cartea întâi a seriei, într-o lume distrusă de o molimă care a făcut ravagii, Eve este obligată să se despartă de Caleb. În Sacrificiul, o găsim captivă în Oraşul de Nisip, capitala Noii Americi, acum aflat sub conducerea Regelui. Şi asta, după ce încercase să-l salveze pe Caleb, despre care aflase că este în pericol. Acum, după ce descoperă multe lucruri dureroase legate de trecutul ei, ar putea avea o viaţă liniştită şi lipsită de griji în Palatul Regelui. Dar Caleb reapare şi ea se strecoară afară din palat să-l întâlnească – pe el şi pe rebelii care intenţionează să pornească lupta împotriva monarhiei care i-a transformat pe oameni în sclavi. Lucrurile nu merg însă conform planului, iar Eve ajunge în situaţia disperată de a fi obligată să accepte un târg cu Regele.
Într-o lume ostilă şi dură, în care orice pas poate fi ultimul, iubirea reuşeşte oare să supravieţuiască? Şi cu ce preţ? Cu un dureros SACRIFICIU!